RECOLLECTIONS
This section of my site is really fun for me. On a regular basis, I am going to go through one of my many scrapbooks (Mom saved EVERYTHING!) and pull some of my favorite personal photos to share with you. And any memories they bring to mind, I'll tell here.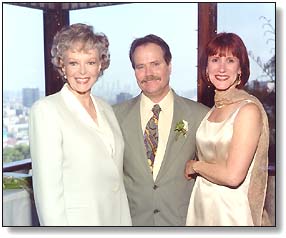 I'm going to start with a very happy recent memory for me -- my wedding on March 28, 1999...
Here I am between two gorgeous women: my TV mom, June Lockhart and my wife, Laurie Jacobson.
Laurie is a Hollywood historian who has written books, documentaries and TV specials about different aspects of Hollywood history (check out her latest book: HOLLYWOOD HAUNTED, A Ghostly Tour of Filmland). Maybe you've seen her on E!'s "Mysteries and Scandals" or some other documentary about Hollywood. Anyway, we met at a collectibles show in 1996 in Los Angeles. She was signing her book and I was signing autographs. She came over to say hello to Stan Livingston who was sitting next to me and I bugged Stan until he introduced me to her. And the rest, as Laurie would say, is Hollywood history!

Naturally, we invited Stan to the wedding along with some other life-long friends of mine. Don't they look great? From left to right, they are: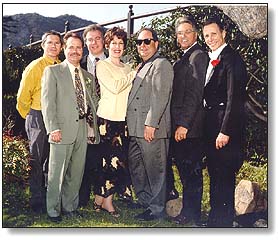 Brandon Cruz -- Eddie on "The Courtship of Eddie's Father"
Stan Livingston -- Chip on "My Three Sons"
Jeanne Russell -- Margaret on "Dennis the Menace"
Larry Mathews -- Ritchie Petrie of "The Dick Van Dyke Show"
Paul Petersen -- Jeff on "The Donna Reed Show"
Johnny Crawford -- Mark McCain on "The Rifleman"

You're probably wondering why Johnny is all decked out in tails. He has a fantastic 1929 dance orchestra. Laurie's been a fan for years and it was always her dream to have him play at her wedding. You may remember that Johnny is a great singer. ("Today Is Cindy's Birthday" was always a favorite of mine.) He uses one of those old-fashioned microphones and it really is like stepping back in time. Laurie said she felt like she was in a Fred and Ginger movie. It was perfect, very romantic.




My wedding looked a little different than my birthday parties. This one was my 13th in 1963.
With me, from left are:
Flip Mark

Angela Cartwright

Susan Gordon

Charlie Herbert

Jay North
My parties were fun, but they were a little bit like work. We couldn't really play because we weren't allowed to get dirty. But it was play for me. On the "Lassie" set, I didn't get to spend time with a lot of kids, so I was happy just being in a group of people my own age. I've lost track of Susan. I saw Charlie a few years ago. Angela and I were at an autograph show together recently. If anyone knows where to find Flip Mark, I'd love to know. And Jay, who lives in Florida, was just in Houston with me at an autograph show.




| | |
| --- | --- |
| Jay and me then | with Jay today |
We haven't changed too much, have we?
I seem to be jumping all over the place here. But as long as I'm looking at old friends...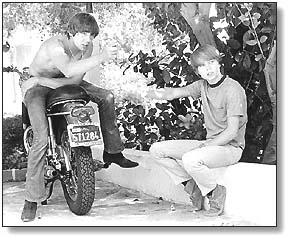 ...here I am with Davy Jones for a fan magazine shoot in 1967. He's a bit older than I am and we really didn't socialize much, but we both loved sports cars and motorcycles and could always talk about that for hours. The photographer, Bob Custer, took a lot of shots of both of us over the years, usually for Tiger Beat. Bob was a nice guy, but he had pretty bad teeth and I remember that Davy bought Bob a set of false teeth. Davy was very generous that way.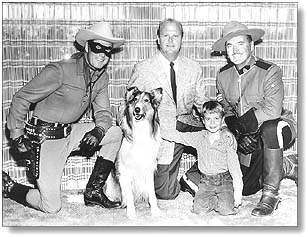 In December, the world lost a really special man, Clayton Moore, the Lone Ranger. What a good and kind man. He appeared on one "Lassie" episode. Do you remember? I got to ride Silver. The Wrather Company produced "Lassie", "The Lone Ranger" and "Sergeant Preston of the Yukon". In this photo, Mr. Moore, Richard Simmons (not THAT Richard Simmons; this Mr. Simmons played Sgt. Preston) and I posed with Jack Wrather, our boss.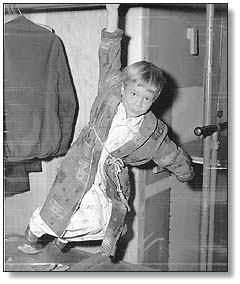 My wife picked this one. She loves it because it's just me being a kid -- something I didn't have a chance to be very often. LIFE Magazine was doing a story on the cast change from Tommy Rettig and Jan Clayton. The photographer followed me around all day and snapped this one in the wardrobe room for "Lassie", a rare shot when I'm not in the familiar red-and-white-check shirt and jeans.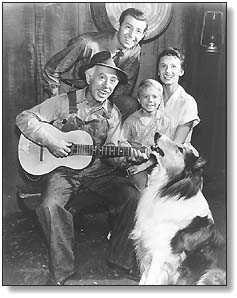 What many people do not remember is that June Lockhart and Hugh Reilly were not my first parents on "Lassie". There was another Ruth and Paul Martin, played by Cloris Leachman and Jon Shepodd. I never got to know Cloris well, but Jon and his wife came to our house in Pomona on several occasions.
Cloris did not feel particularly challenged by the role. Basically, when she realized that all she'd be doing was baking cookies, she wanted out. When she quit, the producer felt he had to let Jon Shepodd go too. He was so disappointed. We lost touch over the years, but Laurie recently tracked him down in England where he lives as a writer. He was delighted to hear from us and we've sent lots of photos and letters back and forth. Here's a great piece of trivia about him. Remember the Bette Davis/Joan Crawford movie "Whatever Happened to Baby Jane?" In the last scene, on the beach, Bette Davis runs to an ice cream stand to get a cone. The man who serves it to her is Jon Shepodd! By the way, the other gentleman in the photo is George Chandler who played my Uncle Petrie. The producers decided to keep him when they made the switch to June and Hugh.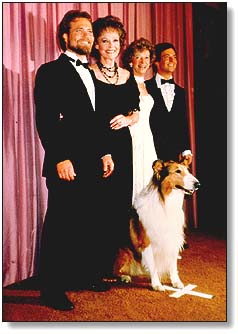 I just found this photo in the garage last week. I'm not sure of the year or the occasion. I'd guess about 1980. June and me and Jan Clayton and Tommy Rettig. Tommy and I always stayed in touch. He was a great guy. We had a little tradition between us. In his last episode of "Lassie", his character, Jeff Miller, has to leave the farm and he gives Lassie to Timmy. As he walks away, I shout out to him, "Thanks for the dog, Jeff." Whenever we spoke as adults, I always ended our conversations with that phrase. Tommy died in February of 1996. His sons called me the same night, so that I wouldn't hear it first on the news. Months later, I realized that my last words to Tommy most likely were, "Thanks for the dog, Jeff."

I'll pick out some new pictures soon. If there's something special you'd like to see, leave me a message in the guest book.





Click here to see some more photos from my teen years.